There are really some great innovators out there and many of them are not linked to Microsoft and Apple. Many of these rely on kickstarter campaigns in order to get their vision to market. The one that has captured my attention recently is from PopSlate.
PopSlate is a charging case with a 4-in. e-ink screen that when connected to mobile apps on your iPhone, turns the rear of the smartphone into a black-and-white display for information and notifications.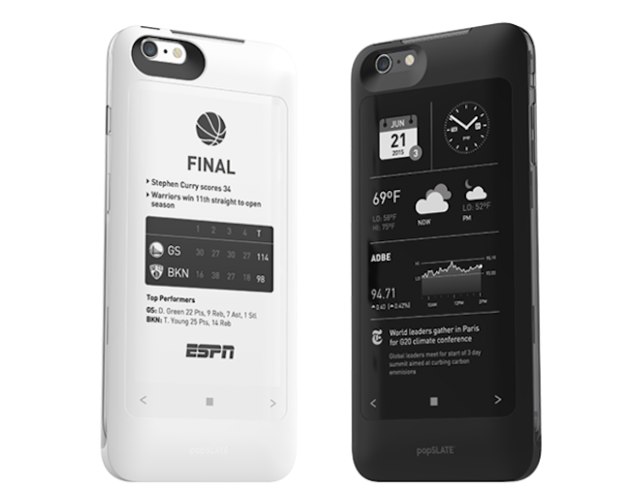 With 21 days left in the Indiegogo crowdfunding campaign, the PopSlate iPhone case has already raised $575,000, seven times its original goal of $75,000.
The screen allows phone owners to use and navigate between multiple apps simultaneously; you can, for instance, configure dashboards for popular news and information feeds for at-a-glance information.
he low-power e-ink display is always on and gives users access by connecting to apps, such as weather, news and sports, social feeds, calendar alerts or e-books.
Along with being a 400-by-240-pixel resolution display, the case can also charge your iPhone with its internal lithium-ion battery. The hard case is compatible with iPhone 6, 6+, 6S, 6S+ models and adds 0.16 of an inch to the phone's thickness.
PopSlate leverages content through a provider's APIs, which then allows it to stream the info into a feed and dashboard on the e-ink screen. The screen can also act as a clock with multiple faces as well as a digital wallet for displaying scannable barcodes and AR-codes for boarding pass and membership card information.
"We have access to the most popular content integrations," the PopSlate site states. "We will continuously roll out new content streams in the coming months."
What PopSlate can't do is read Kindle e-books. Currently, the smartphone case can only access e-reading from Project Gutenberg, which offers 50,000 e-books from a library that's still growing. The company expects to have additional e-book and other content sources after the product launches in July.
The PopSlate is available in black and white and is being offered to early birds for $79 plus shipping costs.
I joined this kickstarter campaign today and look forward to checking this out in July when it arrives! You can learn more here.