If you are not a fan of Windows 8 you may want to take a minute to jump for joy after reading this little article. Although it is very clear that Microsoft has learned from their missteps regarding Windows 8 and it is evident that the desktop will be returning with Windows 9 (Threshold) it is another thing altogether to glimpse some screenshots of what is on the horizon.
Although Windows 8, and especially Windows 8.1 works fine on a tablet and I would even suggest it excels (no pun intended) there it can be a burden on a non-touch screen desktop and most people flee screaming after a few days trying to figure it all out.
Several German websites have released screenshots of what Windows 9 is going to look like. If you want the desktop to take front and center again you will be giddy with excitement.
A great example of this is a screenshot showing the Windows Store, which is a Metro app running in its own window on the desktop with an option button on the upper left of its screen and minimize, maximize and close buttons on the upper right. All just like most users were missing so much from Windows 8.
With this Metro Apps will now run on the desktop just as if they were desktop apps, something Windows 8 kept completely separate causing mass confusion (and hysteria) with many users.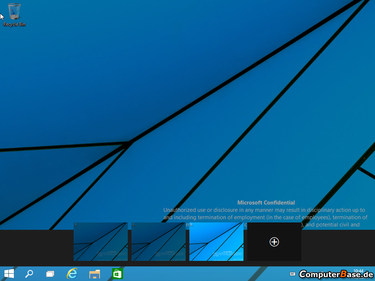 The screenshots also show new buttons being added to the desktop taskbar, including one for search, and one for switching between virtual desktops. Other screenshots show how you'll create virtual desktops, and how you can switch between them.
Windows 9 will strive to work perfectly in two very different environments. Touch screen with metro apps and Desktop mode for non-touch screens. This is what Microsoft should have done in the first place.